Masken und Schutzanzüge desinfizieren und wiederverwenden mit dem Maskpatron
Disinfect masks and personal protective equipment professionally for reuse - Made in Germany
MASKPATRON
Machine for disinfecting masks and protective equipment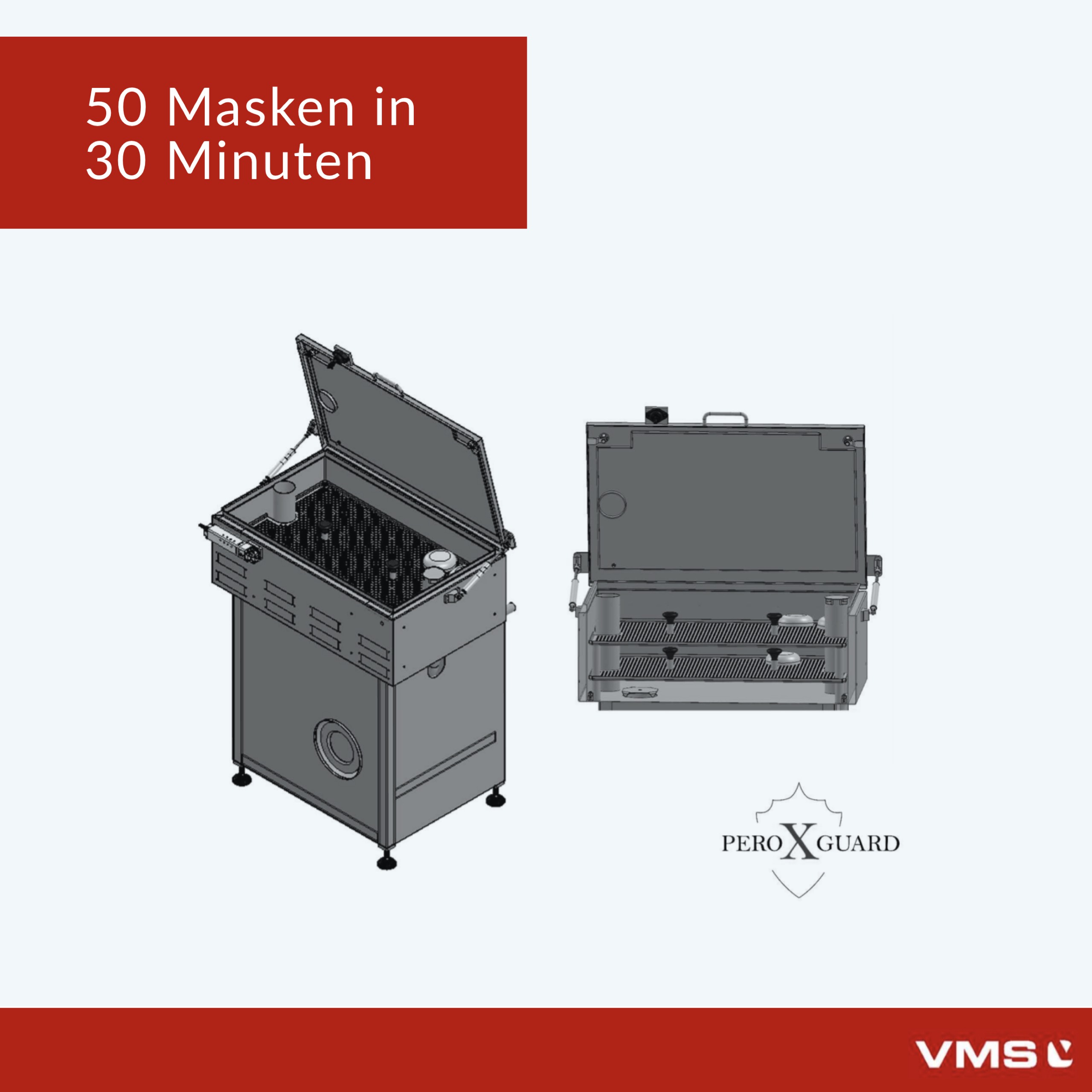 50 N95 Sterilize masks within 30 minutes
Auch verfügbar für Schutzanzüge
Simple, safe and efficient
99.9999 percent germ kill rate = log6
Significantly safer than heat or UV light
Short delivery times, plug & play capable
H2O2 
The innovative process with hydrogen peroxide. Sterilize 50 masks within 30 minutes
A joint development has resulted in the world's first professional mask sterilizer with H2O2 process for reuse of mouthguards and personal protective equipment.
Der MASKPATRON entstand während der Anfänge der Coronakrise in Deutschland und wurde gemeinschaftlich mit VMS- Maschinenbau GmbH und Krull Software & Automation GmbH entwickelt und vertrieben.

Atemschutz und Schutzanzüge PSA desinfizieren
You need a lot of personal protective equipment and masks? Ensure supply by sterilizing and reusing masks. Make yourself independent and avoid waste by using mass disposable products and masks 

Safe reuse
In the mask sterilizer, up to 50 masks can be safely and efficiently disinfected for reuse within 30 minutes. The device ensures that the process runs smoothly and is as easy to use as a washing machine. The masks can be used again immediately. 

More effective than other methods
The Maskpatron uses peroxide to sterilize masks and protective equipment. This is also used in the food industry for safe disinfection. Unlike heat or UV-C, there are no shadows and places where no disinfection takes place. It works faster and requires less energy. 
How can masks be disinfected?
Process comparison
The known methods are compared here. The scientific data comes from N95DECON: a scientific consortium for the data-driven investigation of the decontamination of N95 respirators. Click on the individual procedures to go directly to the fact sheets of the organization. There you will also find all the details and other helpful information for reprocessing N95 protective masks. This work was also used by Stanford University in California.
Disadvantages
UV-C light may not reach inner N95 layers for all N95 models
Elastic straps require additional chemical disinfection
Shadows can block UV-C rays & can leave parts of N95 contaminated
Each don/doff can reduce N95 fit;
some models fit unaccept
Some damage to N95 seen at high UV-C doses (≥120 J/cm )
Strap and facepiece damage seen on some N95 models after UV-C

Advantages

≥1.0 J/cm of UV-C inactivates viruses similar to SARS-CoV-2 on N95 FFRs
≥1.0 J/cm of UV-C yields 2-log reduction of viable B. subtilis spores on N95 FFRs
N95 keeps fit and filter performance after 10-20 cycles of 1.0–1.2 J/cm UV-C
Quelle: https://www.n95decon.org
Advantages
Hydrogen peroxide inactivates SARSCoV-2 in all tested N95 mask types
Hydrogen peroxide inactivates viruses and highly resistant bacteria spores
Hydrogen peroxide vapor (Battelle) for up to 20 cycles does not degrade the filter quality or the belts for 3M 1860
Vaporized hydrogen peroxide (Steris) for up to 10 cycles does not affect the N95 filter quality
Disadvantages
Hydrogen peroxide systems differ in dosage and effect
Hydrogen peroxide processes can be dangerous and require trained personnel
Quelle: https://www.n95decon.org
Disadvantages
Under real conditions (e.g. saliva, droplets of mucus) higher temperatures, humidity or longer periods of time may be required.
SARS-CoV-2 NOT inactivated by 70 ° C dry heat for 30 minutes (on N95) and 60 minutes (on metal)
The method does NOT inactivate all bacteria or mold spores on N95
Each N95 model reacts differently to heat.
Many have not been tested with the above mentioned heating conditions
Repeated heat cycles can damage the seat and filtration of N95
Advantages
70°C dry heat for 60 minutes inactivated SARS-CoV-2 on N95 under laboratory conditions
50-85% humidity improves the inactivation of the flu virus (non-CoV) on N95 and metal
Several 3M N95 models (1860, 8210, 8210+) keep fit and filter for several 30-minute cycles at 70-85°C and> 50% humidity
Many models (e.g. 3M 8200, 3M 8511) keep performance fit for several 30-minute cycles in 75°C dry heat
Quelle: https://www.n95decon.org
Schwäbische Post- Wirtschaft Regional
Fight the lack of masks
Corona virus Two entrepreneurs have developed a mobile device that sterilizes mouth masks and protective gear for reuse.
Wirtschaft Regional Haller Tagblatt
Process for the gentle sterilization of protective clothing
Prototype Sterilization Machine Prototype Report.
Released on April 25, 2020 Haller Tagblatt
Take a look at SHA-TV's report on the prototype for mask sterilization.
Reuse masks
Additional information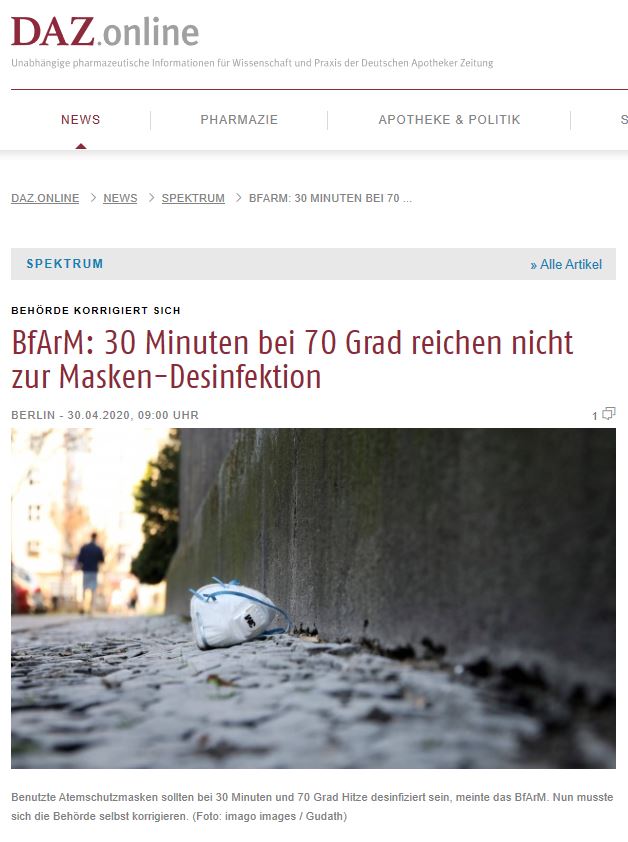 On 24 April 2020, the media reported that the treatment recommended by the Federal Institute for Pharmaceuticals and Medical Devices (BfArm) is not sufficient for protective masks contaminated with coronavirus. Click here for the article.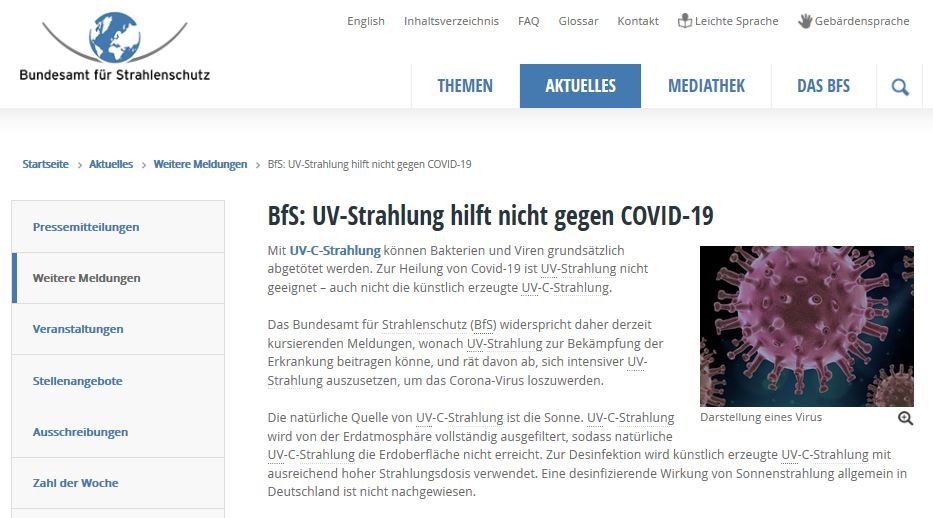 UV-C radiation is harmful to humans. Basically it can kill viruses and bacteria on smooth surfaces, in the air and in water. On non-smooth surfaces there is a risk of shadow formation.
VMS Maschinenbau GmbH
Irene-Kärcher-Str. 39
74423 Obersontheim, Germany
Krull Software & Automation GmbH
Stauffenbergstr. 35-37
74523 Schwäbisch Hall, Germany