Software development & automation engineering
Krull Software & Automation GmbH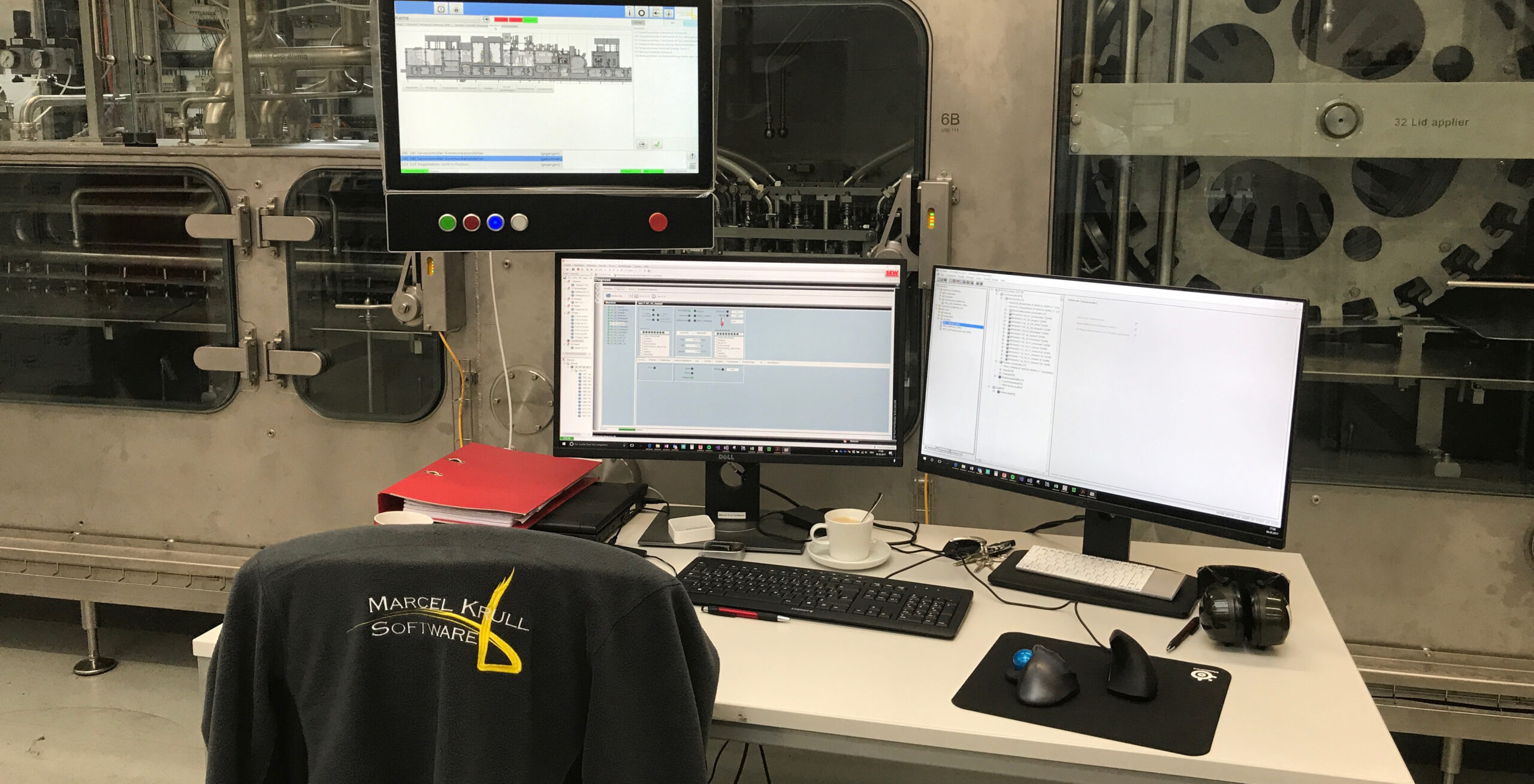 We automate, program and project machines and plants.  From the circuit diagram, PLC and drive programming and worldwide commissioning. 20 years of mechanical engineering experience in over 30 countries. Talk to us.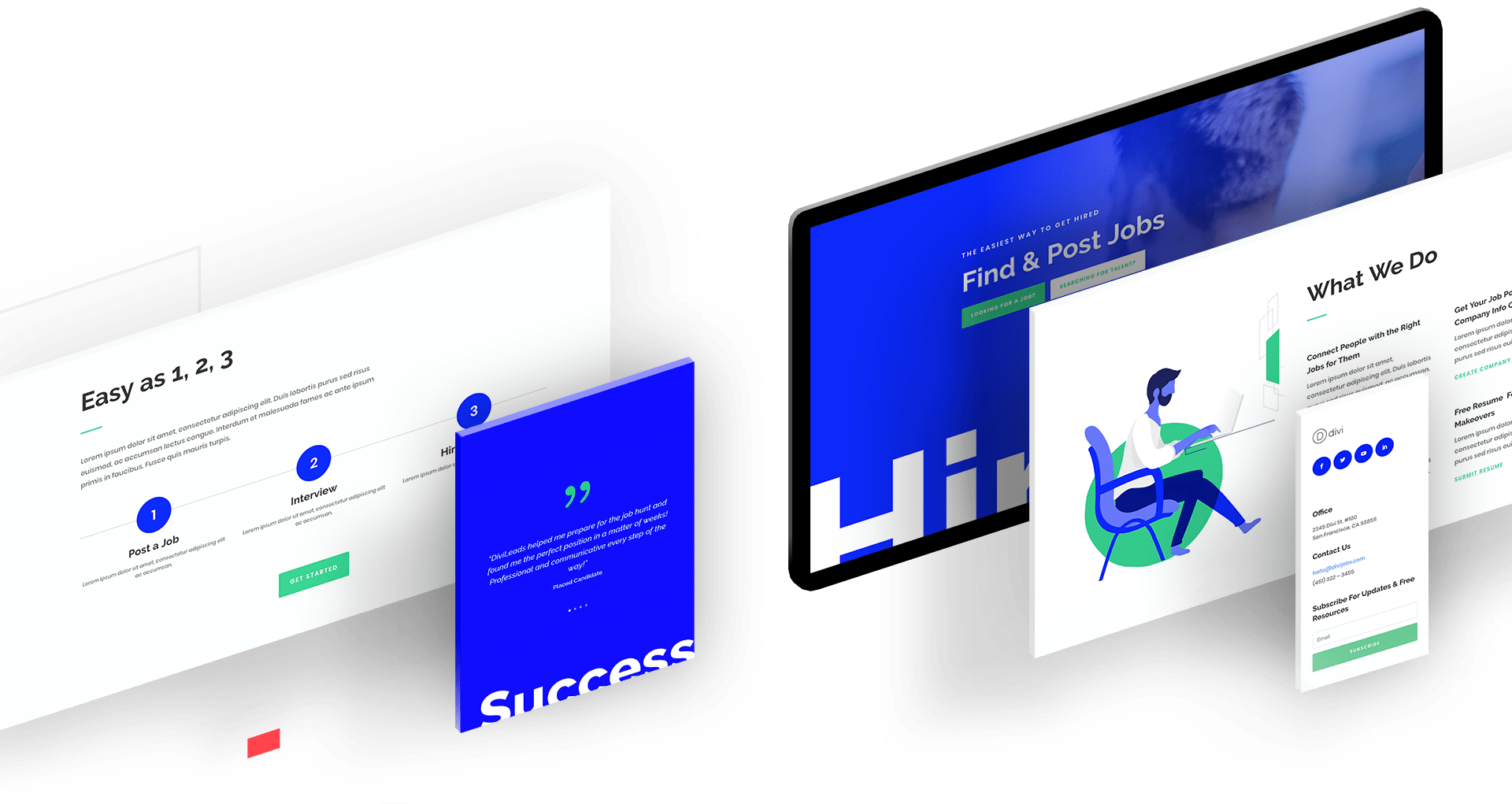 Do you need an industrial software solution for professional applications? Are you looking for expertise in implementation and long-term, secure operation? Benefit from almost two decades of development experience in industrial software. Talk to us. Talk to us. 

Consulting für Ihr Automatisierungsprojekt: wir begleiten Ihr Team mit unserer Expertise und Erfahrung bei der Entwicklung der besten Automatisierungs-Lösung. Lehnen Sie sich zurück und wir sorgen für den Erfolg. Nutzen Sie 20 Jahre Erfahrung in vielen Branchen und Ländern gepaart mit tiefgründigem Know- How aller wichtigen Technologien und Tools. 

We develop apps for professional users and for industrial companies. Digitize and network your production, machines and systems. With Microsoft Xamarin technology platform-independent and efficient. For iOS, Android, UWP/ Windows and more. Talk to us. 

Produktionsdatenerfassung, Betriebsdatenerfassung (BDE), Datenbanken und Anbindungen an neue und vorhandene Maschinen und Anlagen. Egal ob XML, SQL, CSV, OPC oder was Ihr Projekt benötigt. Unsere zahlreichen Projekte für Industriesoftware und PC basierte Automatisierung geben Ihnen die Sicherheit für höchst zuverlässige und schnell verfügbare Lösungen. 

You need a special web portal or a cloud-capable software solution for professional applications and are looking for expertise in implementation and long-term, secure operation? Gladly also in connection with your own app and connections to your production environment. Then get in touch with us. 
An extract of our projects
Automotive 
Tesla Model 3
The production start-up of the Tesla Model 3 in October 2017 and further support until June 2018 was one of the most exciting projects in the field of automation. The best technology companies in the world trust in our performance.
Automation in the automotive industry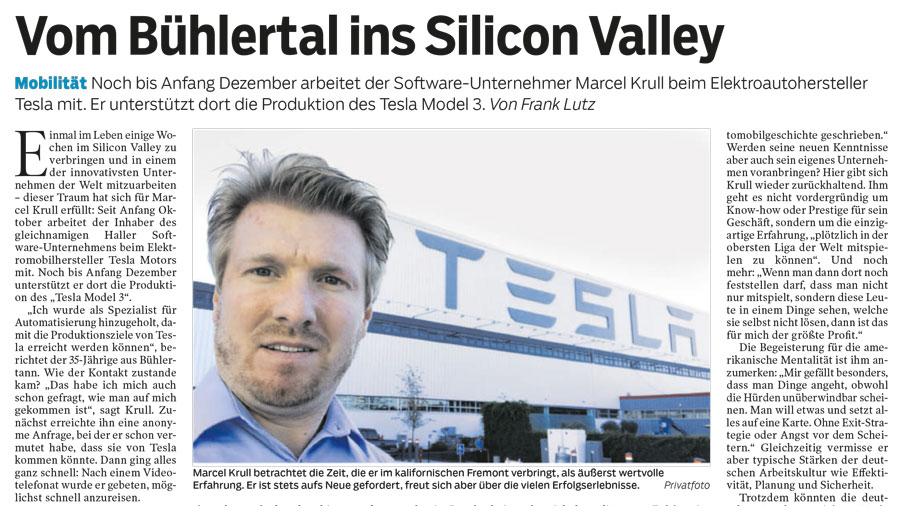 Example
Industry 4.0
Wer schon immer einmal hinter die Kulissen bei der Herstellung von High-Tech Lufttechnik Made in Germany blicken wollte: im Video gibt es tolle Einblicke und einige Infos über #industrie40 und eine tolle Anlage zu sehen.
ZIEHL-ABEGG gehört zu den international führenden Unternehmen im Bereich Luft-, Regel- und Antriebstechnik und besticht durch eine hohe Innovationskraft. 2021 lag der Umsatz bei 716 Mio. Euro.
Daher sind wir besonders stolz, dort im Jahr 2022 zwei hochmoderne Montagelinien mit unseren Softwarelösungen ausgestattet zu haben.
Moderne Bedienoberflächen (HMI), ERP-Anbindungen, Werker-Assistenz  sowie Produktionsdatenerfassung und SPS-Anbindung sind einige Kernkomponenten dieser Entwicklung und ermöglichen in ihrer Gesamtheit und Vernetzung eine flexible datengetriebene Produktion in Echtzeit.
Digitalisierung & Industrie 4.0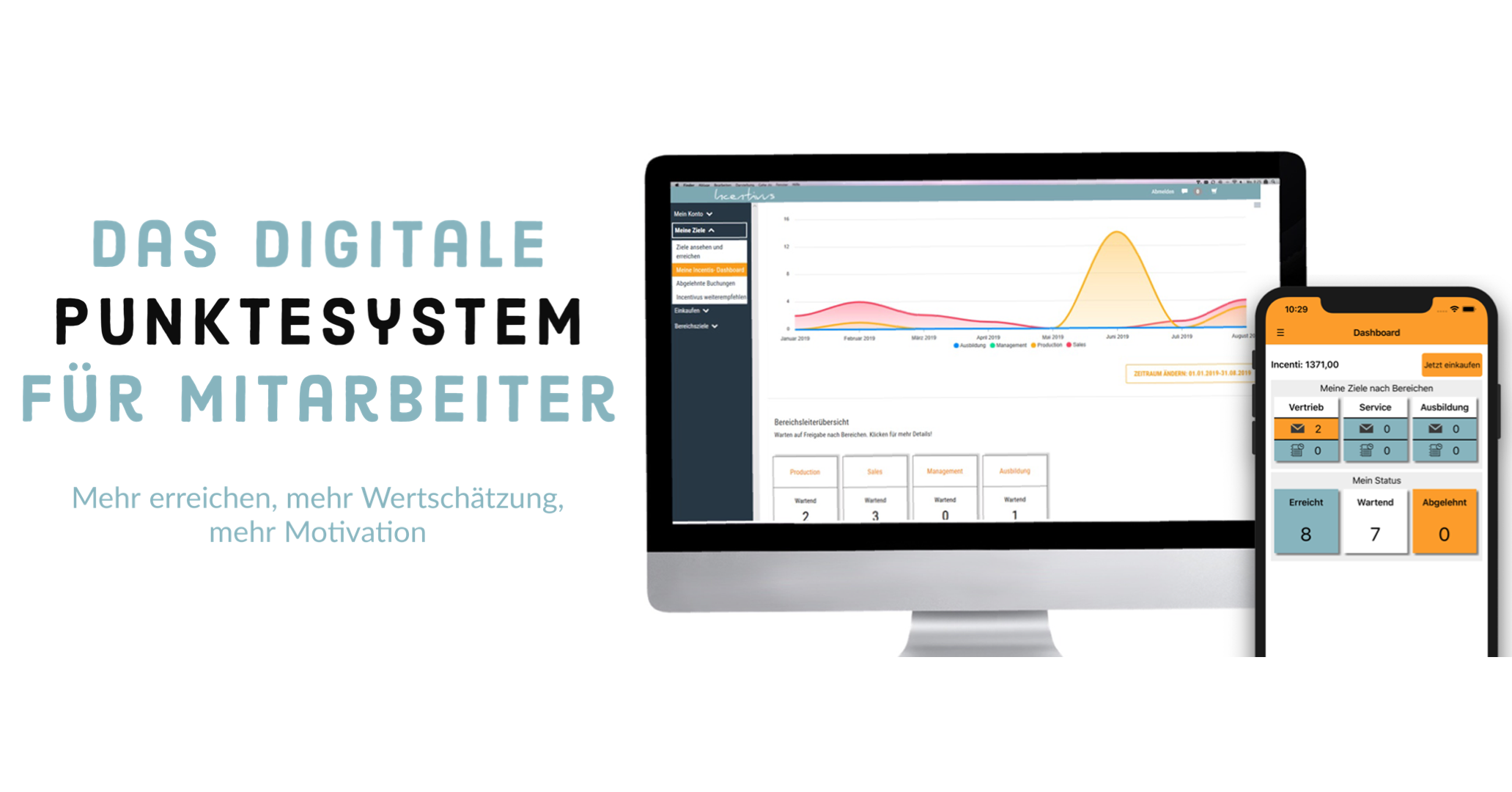 WEBSITE AND CLOUD DEVELOPMENT
Incentivus
At Incentivus we combine cloud technologies, app development, web portals with business logic, Microsoft Azure development and hosting and many other technologies into a product for employee motivation and incentives.
Production facility
PLC programming
The shown fully aseptic filling line in Switzerland was completely automated by our PLC and HMI software. The plant is unique in its flexibility and has an unusually large number of servo drives. These were also programmed by us.
Aseptic filling line automated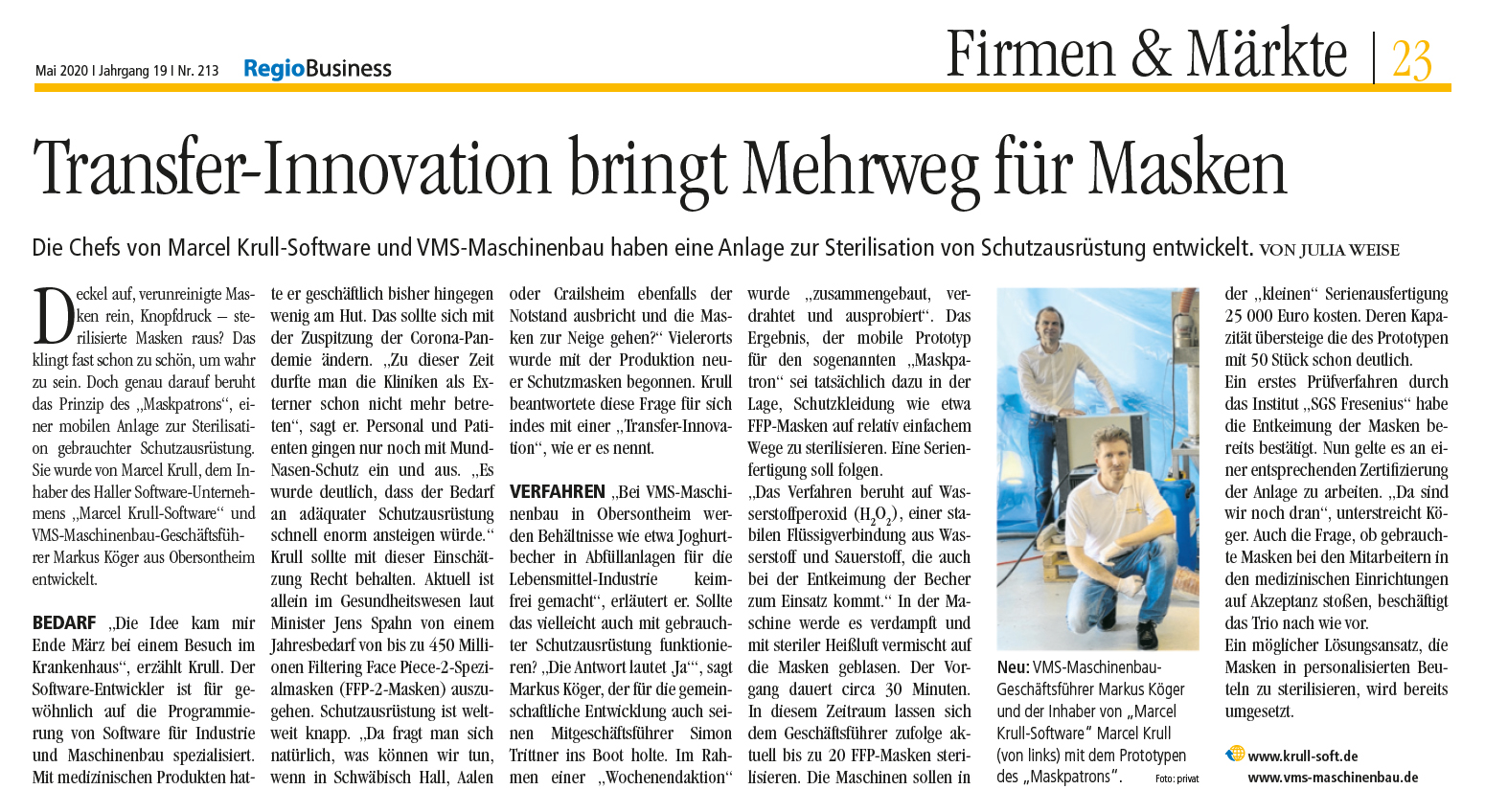 Sterilization plant for N95 masks
Maskpatron
In a joint development, VMS Maschinenbau and Krull Software were able to bring a system for sterilization and reuse of protective clothing and masks onto the market during the Corona crisis.
Would you like to automate a plant? Do you need special software development?
Automation technology for machines and plants
Software development for industrial applications
Programming consulting and software consulting for your project
Digitisation and Industry 4.0 Implementation and Consulting
contact Our solutions for your project
You need professional app development for different platforms. We are specialized in development with XAMARIN and Microsoft Azure.
Training & Coaching
We train and coach in the areas of software, automation and digitalization as well as in management development. 
We develop websites and platforms with business logic and for special requirements. 
Online Marketing & SEO
You want to significantly improve the visibility of your products and company online and even use automated marketing and CRM systems?
Hallo! Ich bin Marcel Krull. Gründer von Krull-Software
I founded Marcel Krull- Software in October 2007 to apply my passion for software and automation solutions to various projects all over the world. Since then, a lot has happened and we have grown into a powerful team of experts in different technologies. Therefore we can offer our customers even more and combine the best solutions cleverly. 
Automation Technology

Digitalisierung & Industrie 4.0

Softwareentwicklung & Programmierung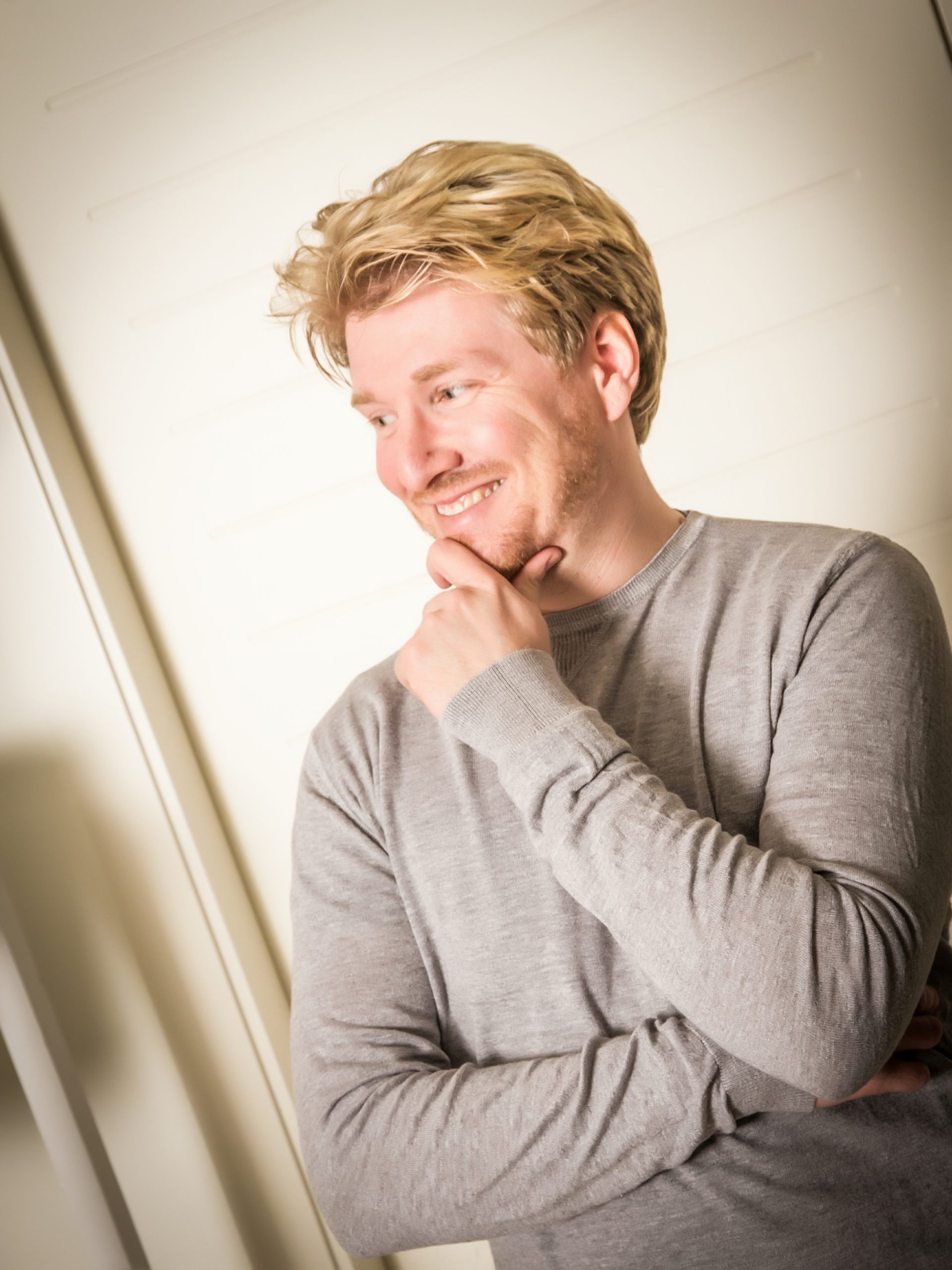 office
Stauffenbergstr. 35-37
74523 Schwäbisch Hall, Germany